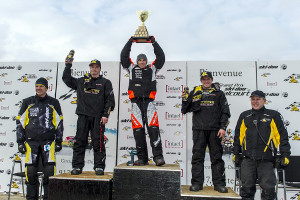 VALCOURT, Quebec (Feb. 23, 2015) – Four-time and defending northeastern regional snocross champion Danny Poirier put in a career-best performance over the weekend, sweeping four Pro Open finals in three days as East Coast Snocross (ECS) completed Round seven at the prestigious Ski-doo Grand Prix of Valcourt.
Poirier (Ingles Performance/Ski-doo), of Saint-Theodore, QC, not only swept the Pro classes all three days, but dominated Friday's Triple Crown Series final for top honors in that international rivalry between ECS and SCMX. Poirier's incredible feat was no small task, as he faced blinding snow on Saturday and battled veteran riders from Canada's CSRA circuit along with the top athletes from SCMX. In 10 races (heats and finals) over the weekend, Poirier won an amazing nine times.
"I had never won at the Grand Prix, but I made up for that last weekend," Poirier said. "I got myself both mentally and physically prepared, and it worked. During the ISOC event in Salamanca, I was testing different ideas to compare with the national guys. We found a couple of things that worked, and used them in Valcourt. There were a lot of fast riders, but my sled was perfect all three days."
Dex Savage and Donovan Asselin filled out the podium in Friday's 11-lap Triple Crown final. In the other Pro Open tilt, Savage settled for second again while Stale Eggen was third. CSRA regulars Iain Hayden and Dylan Hall completed the top five in a 15-sled battle. Hayden and Hall were solid again on Sunday, claiming second and third behind Poirier.
In Pro Lite action at Valcourt, Wade Acker (Saturday) and Cody Paolella (Sunday) notched final round wins over some pretty stiff competition. Acker (daSilva Racing/Ski-doo) outgunned Paolella and SCMX regular Lucas Dubois in his victory, while Paolella (Team Southside/Mystik Lubricants Polaris) overpowered Dubois and Joe Bishop to earn his winner's trophy.
"There is nothing that compares to winning a race in Valcourt," Acker said. "Saturday's final was the best one I've run so far. I grabbed the holeshot and pushed hard to build a gap. I made a couple mistakes, and the second place rider got pretty close. I made a decision, chose the right lines, and was able to hang on for the win. I can't thank my team and Ski-doo enough for making this possible."
Paolella is leading the points in Pro Lite and has his sights set squarely on the 2015 title. The rising star from Wallingford, CT, took one step closer to that goal Sunday with another solid ride.
"It was a big win for me and Team Southside Polaris," Paolella said. "We've been working very hard to get the sled dialed in at every track, and succeeded with that goal last weekend. There were a lot of ECS and Canadian riders; the competition was intense in every race. I was fortunate to get the holeshot in Sunday's final, and led to the checkered flag with no traffic."
In the other Triple Crown Series finals, Quebec natives Lucas Dubois (Pro Lite) and Samuel Caouette (Sport) powered their way to top honors in front of an enthusiastic crowd. Wade Acker (second) and Joe Bishop (third) filled out the podium in a fine showing for ECS athletes in Pro Lite. Dalton Jacquier followed Maxime Tremblay and Caouette across the line in Sport to give ECS fans a reason to smile. That's a win, a runner-up finish and a third for ECS riders in Triple Crown finals.
East Coast Snocross officials would like to thank president Donald Lemay and the entire Grand Prix de Valcourt staff for allowing us to participate in this great event. We recognize the hard work it takes to pull off a show of this size, and couldn't be more honored to have been a part of it all. We hope to return once again in 2016 for more exciting competition in one of North America's most prestigious snowmobile races.
After seven consecutive weekends of racing, ECS teams will now take a much-needed rest before the season's final two rounds. On March 7-8, the series will make its debut at Vermont's Magic Mountain Ski Area in Londonderry.
Sanctioned snocross racing here in New England can trace its roots to southern Vermont, as the old Rock Maple Racing circuit was born in Wilmington during the winter of 1991-1992. Magic Mountain is one of Vermont's real gems, and will serve as an ideal venue for snowmobile racing.
East Coast Snocross, presented by AMSOIL, Woody's Traction and FXR, is the eastern regional affiliate of ISOC. ECS strives to maintain a healthy level of competition in grassroots snocross, while also cultivating new talent for tomorrow's factory-backed national teams.