Greetings from Londonderry,


We've had two seasons in two weeks. First one was cold and snow-filled and this week was 70s and summery. Now it looks like it's changing over to a more traditional late fall weather pattern with cooler gray skies and a chance for some snowmaking temps by next week!

I want to extend a special and well-deserved THANK YOU to all Veterans who served this country so faithfully in past years. We have many Magic families with Vets as well as are own snowmaking manager Don Gillespie and former long-time patroller Roger Nutting. And, then there's Craig Moulton, manager of the Tavern, who continues to serve (he just flew a humanitarian mission down to Guatemala as a part of the US Air Force Reserves). We salute all those currently wearing our nation's uniform. Mary Beth and I are also proud parents of Jack who currently serves overseas in the Army. Jack's a former Magic ski racer who's been known to take advantage of his basing near the Alps…There are so many unsung heroes defending freedom and democracy around the globe so we can simply go about our daily lives with one less worry. We thank all them all, past and present, for their service and sacrifice, including their families, so we can do so many of the things we love, including skiing, without much sacrifice on our parts.
This leads me to where we are today. Because in fact, we can, and do need to, make some sacrifices to take care of our fellow citizens and hopefully go skiing this winter which is important for our bodies and souls. The pandemic is raging right now across the country and we need to get every one wearing a mask in public, keeping 6′ distant in public, washing hands, and limiting social gatherings. This is as true in Vermont as it is in states next to and south of us. Cases are currently growing in Vermont and it's not due to an influx of tourists. No ski resorts are even open yet and this is a down-time for travelers to the state. As our Governor here has stated, this internal-to-Vermont COVID spread shows we are not immune from following all the state health protocols despite our very positive situation versus the rest of the country. We are all tired of this virus, but it is not tired of us. So we need to refocus our collective efforts as we approach the holidays.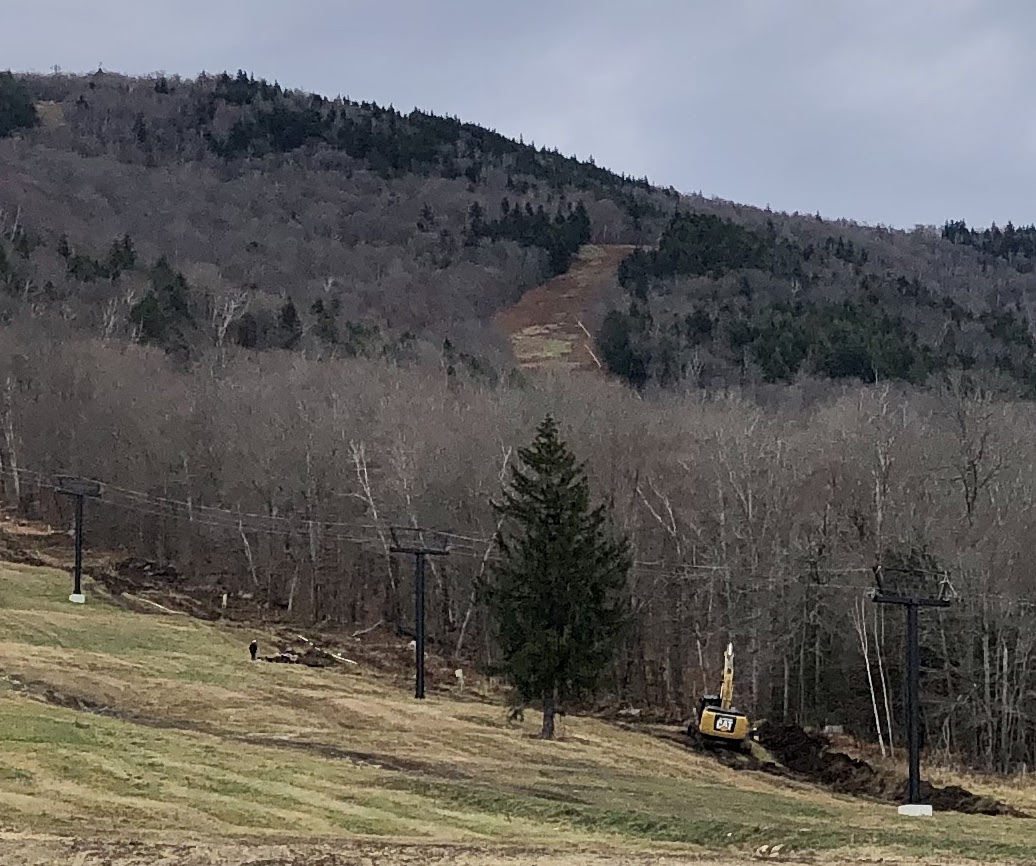 Black Terminal painting                                               Hocus Pocus electric repairs for snowmaking

Besides trail clearing on both Heart of Magician and Pitch Black this week, we are finishing a full repair of the electric line with pedestals moved back to trail's edge for fan gun snowmaking. The "good" weather allowed some final painting of the Quad base terminal and our crew continues to make progress on chair reconstruction in the parking lot. While we expect to start making snow next week for a day or two, there has yet to be a consistently cold pattern in southern Vermont, therefore our current 12/5 opening date may shift, if necessary, to 12/12 to insure we have enough terrain to open safely. 

Online purchasing and reservations, for everything from day tickets, lessons, rentals, and indoor dining tables during ski days, is in its final stages and we should go live on our website with the new platform by 11/23 for any day this season. Inventory will be limited as a result of COVID so advanced planning is recommended. But given current out-of-state travel restrictions requiring a 7-day quarantine with a negative COVID test, we don't expect to reach our day-ticket limit (just 1,100 tickets) too often. 

Every one here is working hard to get ready for the ski season and I thank our dedicated crew so much for the extra work in preparing Magic during these difficult times, plus the patience and perseverance that will be needed by our faithful skiers and riders this season.

Be well, stay safe, and think snow!
– Geoff
Geoff Hatheway, Magic Mountain
Where skiing still has its soul.
P.S. See our current COVID Operating Plan below

For Magic Gear go here
For Season Passes go here
_________
Winter Operating Plans Updated as of 11/12 (current guidance)
Magic skiers and riders are a hearty crew and this season will certainly be right up our alley in making the best of it, following all Vermont state health and safety guidelines, so we can do what we all love: ski & ride while protecting and caring for our community!
– Planned Opening Date for Skiing (subject to conditions): 12/5 or 12/12, For Black Line Tavern: 11/27
– Advanced online ticket reservations will be required for all skiing/riding day-ticket guests via our ticket purchasing page (go on sale as of mid/late-November) to control capacity as well as minimize in-person transaction times. Same day tickets can be purchased if there is inventory available online, but not via ticket windows. Pick-up of tickets will be at the breezeway ticket windows. Only arrive at Magic if you have pre-ordered your ticket. Day ticket customers will need to attest that they are following Vermont's travel and quarantine policies.
– Currently, Magic Season Pass Holders will not have to make a reservation to ski and ride. All season pass holders will need to check-in at our outside ticket window (near lodge entrance slope-side) to pick up a free ticket so we can confirm attendance/track volume and have contact tracing info. Pass holders will need to attest once for the season that they will following Vermont state's travel and quarantine policies.
– Indy Pass Holders are required to make a free reservation online on our website ticket page in advance as inventory will be limited, similar to ticket buyers. Once reserved, Indy Pass Holders can pick up their tickets at the outside season pass holder ticket window near lodge entrance on slope-side. Only arrive at Magic if you have a confirmed reservation online. Indy Pass Holders will need to attest that they are following Vermont's travel and quarantine policies.
– Uphill Alpine Touring guests will need to make a reservation whenever we are open in order to meet state requirements for contact tracing and attestation for adhering to state travel guidelines. Tickets can then be picked up at breezeway ticket windows.
– There will be no entering the lodge for tables/changing/bag storage without an indoor table reservation due to VT State indoor capacity restrictions (75 max per unique space) and have guest contact tracing information. There will be no bag storage for guests inside other than those with an 8:30am table reservation at the BLT. They will only be able to pick up their bag at the end of the day. Those with seasonal lockers in the cafeteria will be able to quickly change at their lockers only before 10am and after 3pm when lunch is not being served to guests.
– Indy Pass Holders and day-ticket buyers must cancel their reservation at least 24-hours in advance of arrival day to allow for more day ticket purchases. Similar to hotels, there are no ticket refunds or crediting within 24 hrs of arrival time or after. Exception for the 24 hour rule will be made for those cancelling due to illness. There will be day tickets available for purchase weeks in advance to help guest long-range vacation/trip planning. Online tickets will be available at normal ticket-window pricing due to capacity restrictions.
– While the state has not yet limited outdoor capacity at ski areas, Magic has in the past limited day tickets sold to 1,500 max/day to keep crowds to a minimum here. Despite adding more lift capacity this season with the Quad, we are still lowering that number by 25% this season to 1,100 (including Indy Pass Holder reservations) to insure plenty of spacing and minimal-to-no lift lines for our guests to maximize safety and physical/mental comfort. Therefore, lift ticket prices will not be discounted online, while still remaining very affordable.
– To meet state indoor ski lodge capacity guidelines (50% of fire code capacity or 75 max), reservations will be required at all times for both indoor cafeteria dining (30 minute time increments for tables), and Black Line Tavern restaurant upstairs during the day (longer 3 hr increments from 8:30-11:30; 11:45 to 2:45; 3-6), then regular dinner reservations 6-9. Tables will be spaced 6′ apart for safety. The early morning BLT reservations will allow for bag storage in cubbies at the BLT. There will be no "BYO"/picnic food allowed in the lodge. Reservations/payment for tables will be made in our same online ticket store. A table reservation system will allow guests to know whether they can be inside or mostly outside at our expanded outdoor dining areas and/or using one's car as a "mini-base lodge". Better to know (take the uncertainty and anxiety out of your ski day) and be well-prepared for the day ahead. Table reservations will be priced according to table size with a minimum of 4-person seating at tables whether all seats are used or not. The reservation price will be credited toward any food/beverage purchased but must be used that day. There will be no traveling between the cafeteria floor and the Black Line Tavern. The Tavern will be accessed through the upper deck entrances for those with reservations or those ordering take out at Base Camp window in BLT. The cafeteria will be accessed for those with reservations through the main entrance doors on slope side of mountain. The downstairs restrooms will be used for those in the cafeteria.
– Snowsports lessons and rentals will also require online advanced reservations. There will be no group lessons unless from same household for safety reasons, with lessons meeting outside the lodge. Rental area will be limited to two customer being serviced at a time. The Magic Merchants shop will also be limited to two customers at a time.
– Snowmaking will commence as soon as temperatures allow in November. Day-long sustem testing took place 11/3.
– While concerts at the Black Line Tavern will not be allowed under current guidelines, Magic plans on holding outdoor ski events and having apres ski music safely. Open heated areas will be available on the deck and more outdoor dining snack areas will be available at Sunshine Corner, at base area of Show Off (TBAR) and near Quad lift/beginner area (food truck) on weekends/holidays. Take-out will also be available via the Base Camp service area upstairs at BLT. Besides a semi-heated deck, there will be a heated tent for added space in front of the lodge with tables.
– It is expected that advanced reservations and tickets can begin to be made/purchased starting in mid/late-November online at magicmtn.com/daily-tickets
– Remember, masks must be worn at all times when not eating, drinking or actively skiing/riding. Keep 6′ apart from people not of your traveling party. Wash hands frequently (there will be sanitizing stations in lodge and at outdoor food and beverage locations.
– Please follow all Vermont guidelines and restrictions to keep you and our community safe! Thank you.
For the latest Vermont Cross-State Travel Restrictions, go here
For those in counties requiring a quarantine by the state of Vermont, depending on how you travel to Vermont, you may be able to quarantine in your home state before coming to Vermont.
Quarantining Before Coming IS an Option
If you plan to travel to Vermont in a personal vehicle (including a rental vehicle), you may complete either a 14-day quarantine or a 7-day quarantine followed by a negative PCR test in your home state and enter Vermont without further quarantine restrictions. Continue to quarantine until you travel to Vermont.
When you travel to Vermont, only stop when necessary (like for fuel, food or rest). When you stop, wear a face mask or covering, keep a 6-foot distance from others and wash your hands often. Stay home and do not travel if you are sick.
If you are a weekly skier from out-of-state or 2nd home owner in VT, another option to consider is to stay and work remotely (if possible) in Vermont for longer periods of time this winter, so as to avoid cross-state travel.